This is another article in the series written by Frederic Heath in the Milwaukee Leader during 1920-1921. I posted a few others earlier this year and will post more later on.
Schlitz Park at North 8th & W. Brown has gone through many name changes over the years and is now known as James W. Beckum Park. The hill mentioned in the article remains, one of the only reminders of the park's past. Many of the other parks mentioned were scattered around the older parts of the city and have either become public parks or have been sold and developed. Shooting Park has become Clinton Rose Park on King Drive and Burleigh.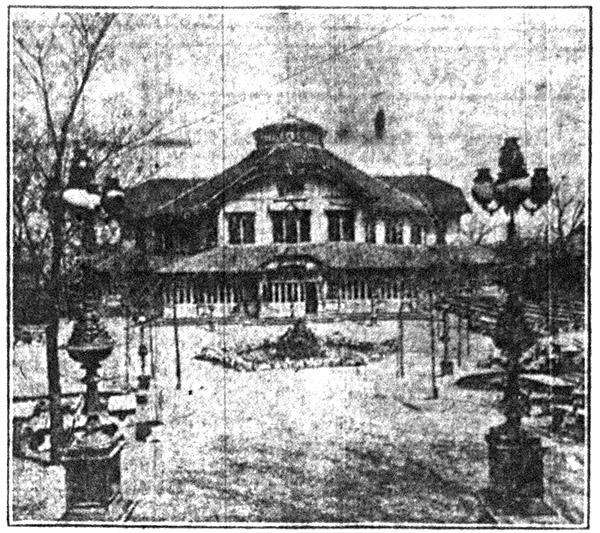 Milwaukee Leader, March 24, 1920

DO YOU REMEMBER?
SCHLITZ PARK IN THE EARLY 80'S?

BY FREDERIC HEATH

The Milwaukee public park system put the private parks and beer gardens into the discard, but any valued memories remain of the private gardens, and in many ways they played an important part in Milwaukee's history. There was Quentin's park, Shooting park (now Pabst park), Miller's garden, Milwaukee garden, National park (Bielfeld's garden), etc. Outside the first two, these are all gone.

Quentin's park became Schlitz park, and is now the city's Lapham park. Here are a few other old time gardens, just to revive your memories: Johannesburg garden, (Ninth and Galena), Rose Hill park, Little Paris (Klein Paris), Schneider's park (35th & Vliet) where the Socialist-Democrats held their first picnic, Neumiller's park, and so on. Quentin's is recalled as it was when it became Schlitz park, and particularly in the early 80's when the Schlitz park theater was at the zenith of its well deserved fame.

THEATER BECAME FAMOUS.

Through the summer comic operas and the like were given, under Otto Osthoff, as lessee, by companies of the best obtainable artists, and it had the town virtually at its feet.

Gilbert and Sullivan's comic operas, Pinafore – which ridiculed the British navy – Pirates of Penzance, full of beautiful melodies, etc., had just burst into a world-sweeping fame. Billie Taylor, The Mascot, Chimes of Normandy, Olivette and others ranking second to the Sullivan operas, were also given, with The Bohemian Girl for good measure. Digby Bell, Milwaukee born, came to the park with Orpheus and Euridice, and scored tremendously. James Peake was one of the Park Opera Co. stars.

In those days the street railways ran open side step cars in summer, with seats running clear across.

SCENE OF MANY PICNICS.

But the park opera had its day and waned out. Many other attractions came to the park and even minstrel companies, and it was the scene of many a Labor day picnic, nationality picnics, band concerts, and political mass meetings.

The park hill still remains, and it is an interesting fact that early day historians always claimed it was an artificial eminence, heaped up by Indians in the uncharted past. There was an observatory on top of it from which in later years a huge flashlight swept the city. The old pavilion, refreshment room, bowling alleys and veranda drinking tables, near the Eighth street entrance, was torn down some years ago.