This is a great aerial view of the Westown section of downtown looking west along Kilbourn Avenue. It is from sometime in the late 1940's before the Arena was built and after the area east of the Courthouse was cleared out in 1941. It gives an interesting view of an area of downtown that was already past its peak and was succumbing to an urban renewal frenzy that eventually nearly cleared it into oblivion.
Note: This link will take you to the Gigapan page with a high resolution view.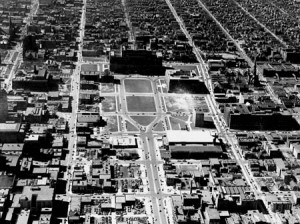 A comparable view from 1967 is shown here with many more buildings magically turned into parking lots. This view was before MECCA was built in 1974.