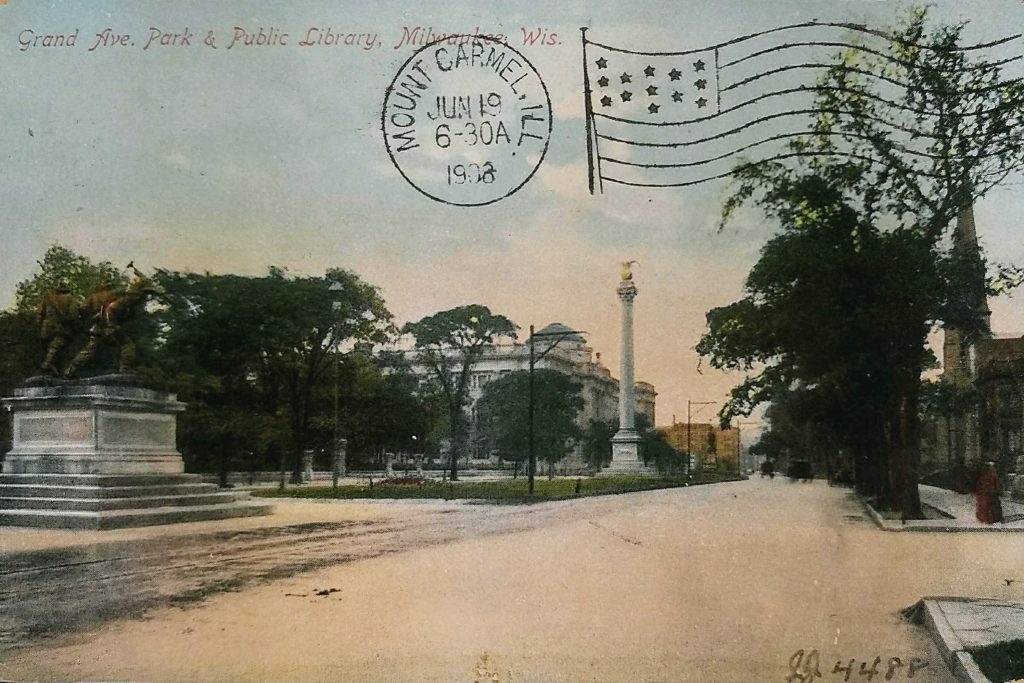 This postcard is postmarked 1908. It shows the scene looking east down what is now called Wisconsin Avenue from 10th Street. In the background, on the north side of the street, is the Milwaukee Public Library. It was opened in 1898. The Library shared the building with the Milwaukee Public Museum until the museum moved to its own building across Wells Street in the mid-1960s.
The church on the right still stands. St. James' Episcopal Church was built in 1867. It closed its doors in November 2017 and was sold. The new owners have opened a wedding and events venue in the building.
While the postcard is postmarked 1908, the photo likely predates 1903. The Saint James Court Apartments were built in 1903 and would be obvious beyond the church. Both the church and the apartments are on the National Register of Historic Places.
You can see three monuments in the middle of Grand/Wisconsin Avenue. The furthest one is very difficult to see–barely a dark smudge against a brown building–but that is Milwaukee's oldest monument. The 3,000-pound, 10-foot tall statue of George Washington was presented to the city 1885 and was recently restored.
The tall monument in the center is called the Carnival Column with Sphere. This 65-foot Corinthian column commemorates the week-long carnival held in Milwaukee during the administration of Mayor David Rose. The eagle pictured atop the sphere was identical to those above the public library entrance.
And on the left is The Victorious Charge, an 1898 civil war monument. This bronze group of four soldiers, cast in Rome, is dedicated to "those who fought in the War for the Union." When a local art patron failed to raise the needed funds for the monument, Captain Frederick Pabst paid the balance.
Sources:
https://en.wikipedia.org/wiki/Milwaukee_Public_Library
https://www.wisconsinhistory.org/Records/Property/HI27620
https://onmilwaukee.com/history/articles/stjamesspelunking.html
https://npgallery.nps.gov/NRHP/AssetDetail?assetID=9d02251f-4c0c-464b-944c-27c868350047
https://npgallery.nps.gov/NRHP/AssetDetail?assetID=5b89dc04-a088-446b-81db-2751d0a1426b
https://en.wikipedia.org/wiki/Washington_Monument_(Milwaukee)
https://www.tmj4.com/news/local-news/newly-restored-george-washington-monument-back-on-display-in-downtown-milwaukee
http://www.wisconsinhistoricalmarkers.com/2015/06/historic-milwaukee-west-wisconsin-avenue_6.html
https://onmilwaukee.com/history/articles/courtofhonor.html
https://en.wikipedia.org/wiki/The_Victorious_Charge
Identifiers:
PLUS Code: 23QG+C5 Milwaukee, Wisconsin
Approximate Google Street View Today: https://goo.gl/maps/LAXKmDx6zhZsW4ya6