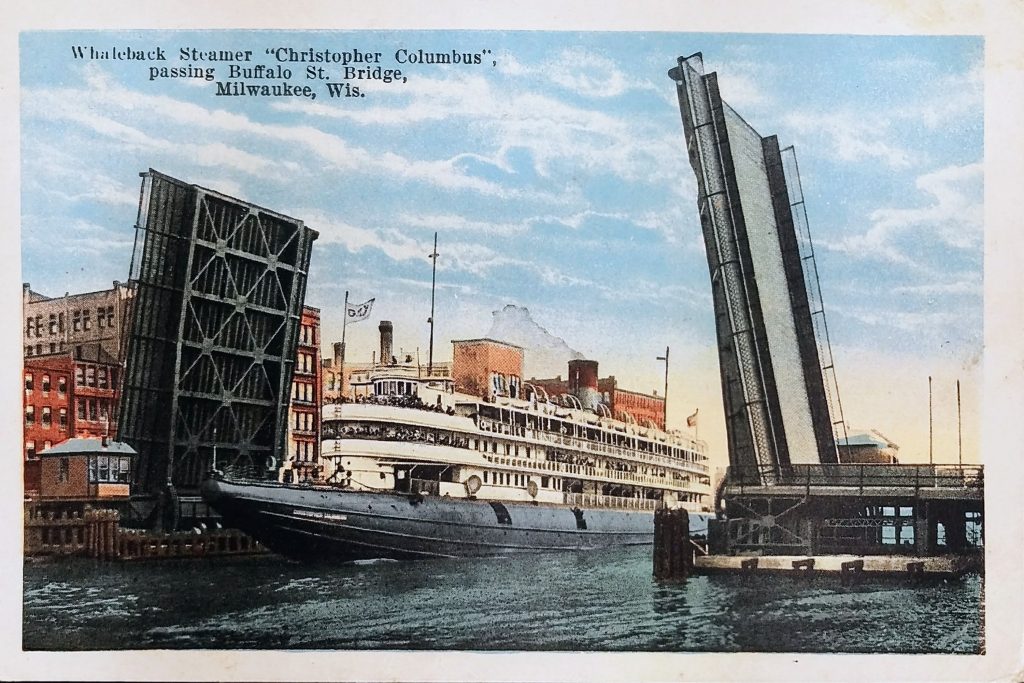 This undated postcard shows the Christopher Columbus passing the Buffalo St Bridge. Neither the boat nor the bridge exist any longer. This photo likely comes from the 1920s or early 1930s.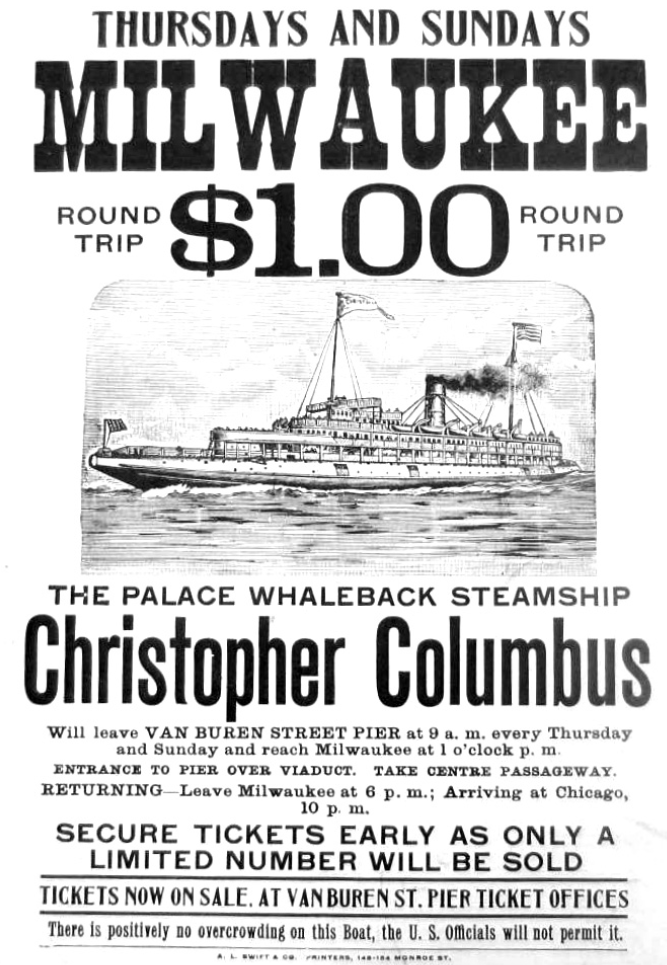 SS Christopher Columbus was the only whaleback ship ever built for passenger service. The ship was the longest whaleback ever built, and reportedly also the largest vessel on the Great Lakes when she was launched. She served as an excursion liner on the Great Lakes between 1893 and 1933 and began life shuttling visitors from downtown Chicago to the World's Columbian Exposition. The ship could carry 4,000 to 5,000 passengers on her four decks, but it was reported that she carried 7,000 on her maiden voyage. She was scrapped in 1936.
The bridge at Buffalo Street was originally a swing bridge that pivoted on a center pier. In 1896, the Christopher Columbus hit the bridge, severely damaging the bridge. The draw bridge pictured here replaced the swing bridge in 1914. (That poor ship had its problems–in 1917, it collided with a water tower near Michigan Street in Milwaukee, sending the tower crashing onto the ship and killing passengers.)
The Buffalo Street bridge was removed in the late 1970s after the construction of the bridge over the river at St. Paul Avenue.
Sources:
https://en.wikipedia.org/wiki/SS_Christopher_Columbus
https://chicagology.com/columbiaexpo/fair080/
https://urbanmilwaukee.com/2016/01/22/city-streets-buffalo-st-was-where-black-man-lynched/
Identifiers:
PLUS Code: 23MQ+MM Milwaukee, Wisconsin
Approximate Google Street View today: https://goo.gl/maps/Gv1La3RLXYnqybLc6