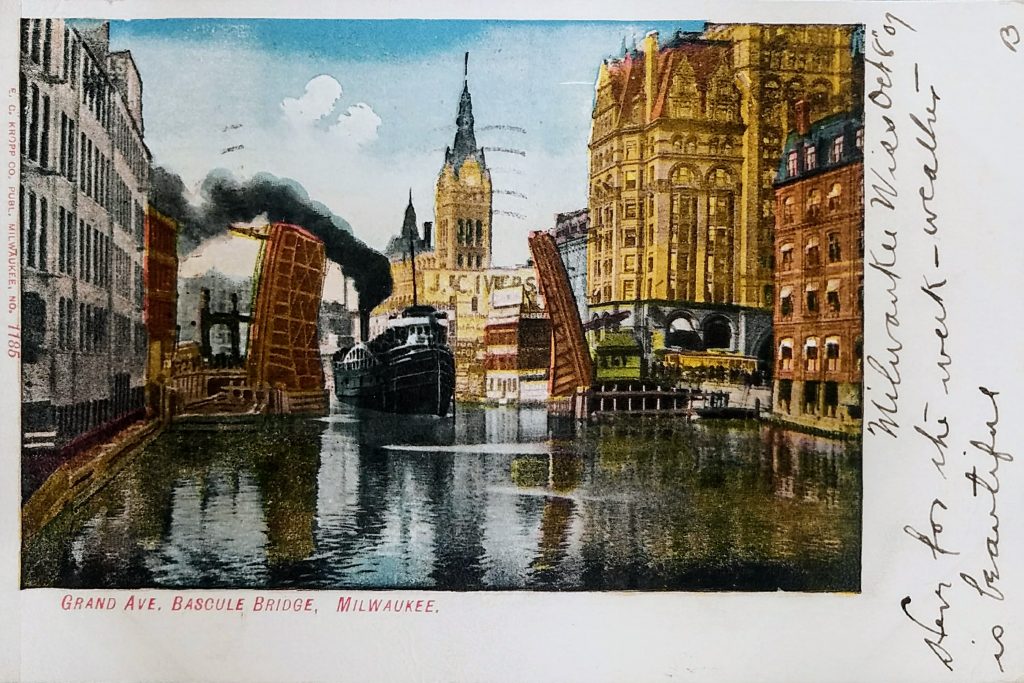 This postcard, postmarked 1907, shows a boat passing the Grand Avenue (now Wisconsin Avenue) Bascule bridge. (A bascule bridge is just a fancy name for a drawbridge).
This bridge would have been fairly new at the time this image was captured. A swing bridge, which pivoted horizontally from a piling in the center of the river, was replaced with this bridge in 1902. The old swing bridge was moved six blocks north to Chestnut Street, which is now called Juneau Avenue. In 1901, the city received four bids to build this bridge, ranging from $84,700 to $103,486 for an "ornamental structure." (Those figures would be equal to $2.5M to $3.1M today.)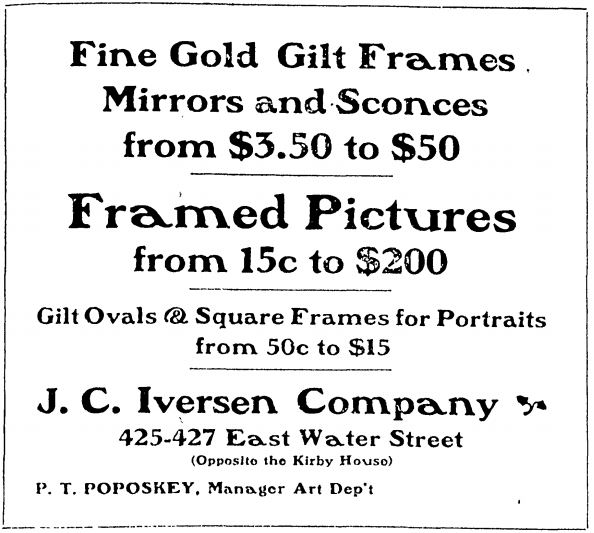 Just over the bow of the ship, you can see the J. C. Iversen building. John C. Iversen established his picture-framing business in 1867 on Spring Street (later Grand Avenue). The business prospered and expanded in 1879 to this five-story building you see here on E. Water Street (now N. Water Street).
On the left, you see the old four-story Gimbel's building that was razed to make way for the new eight-story building in the 1920s. (At the top, you can see the last two letters of the Gimbel's name.)
In the center is, of course, City Hall. To the right is the Pabst Building and Mack Block Building, across from each other on what is now Wisconsin Avenue.
I think the only thing visible in this image that still stands is city hall.
Sources:
https://www.milwaukeeriverkeeper.org/milwaukee-bridge-history/
https://0-infoweb-newsbank-com.countycat.mcfls.org/apps/news/openurl?ctx_ver=z39.88-2004&rft_id=info%3Asid/infoweb.newsbank.com&svc_dat=WORLDNEWS&req_dat=0D8DE8DE83992E4A&rft_val_format=info%3Aofi/fmt%3Akev%3Amtx%3Actx&rft_dat=document_id%3Aimage%252Fv2%253A1477BBDEA50EB75C%2540EANX-NB-164DEAC1C4CECCC1%25402415547-164DC1903029B0C5%25402-164DC1903029B0C5%2540/hlterms%3A%2522Grand%2520Ave%2522%2520%2522bascule%2520bridge%2522
https://0-infoweb-newsbank-com.countycat.mcfls.org/apps/news/openurl?ctx_ver=z39.88-2004&rft_id=info%3Asid/infoweb.newsbank.com&svc_dat=WORLDNEWS&req_dat=0D8DE8DE83992E4A&rft_val_format=info%3Aofi/fmt%3Akev%3Amtx%3Actx&rft_dat=document_id%3Aimage%252Fv2%253A1477BBDEA50EB75C%2540EANX-NB-164E0FE9181E1E4F%25402415501-164C78C7C2ACFAF7%25400-164C78C7C2ACFAF7%2540/hlterms%3A%2522Grand%2520Ave%2522%2520%2522bascule%2520bridge%2522
http://bridgehunter.com/wi/milwaukee/B40048800000000/
https://milwaukeehistory.net/wp-content/uploads/2018/05/2008.J.C.-Iversen-Co.pdf
https://urbanmilwaukee.com/2015/06/16/yesterdays-milwaukee-j-c-iverson-co-about-1879/
Identifiers:
PLUS Code: 23PQ+XW Milwaukee, Wisconsin
Approximate Google Street View today: https://goo.gl/maps/d4twmHVXbdjWXVwM7