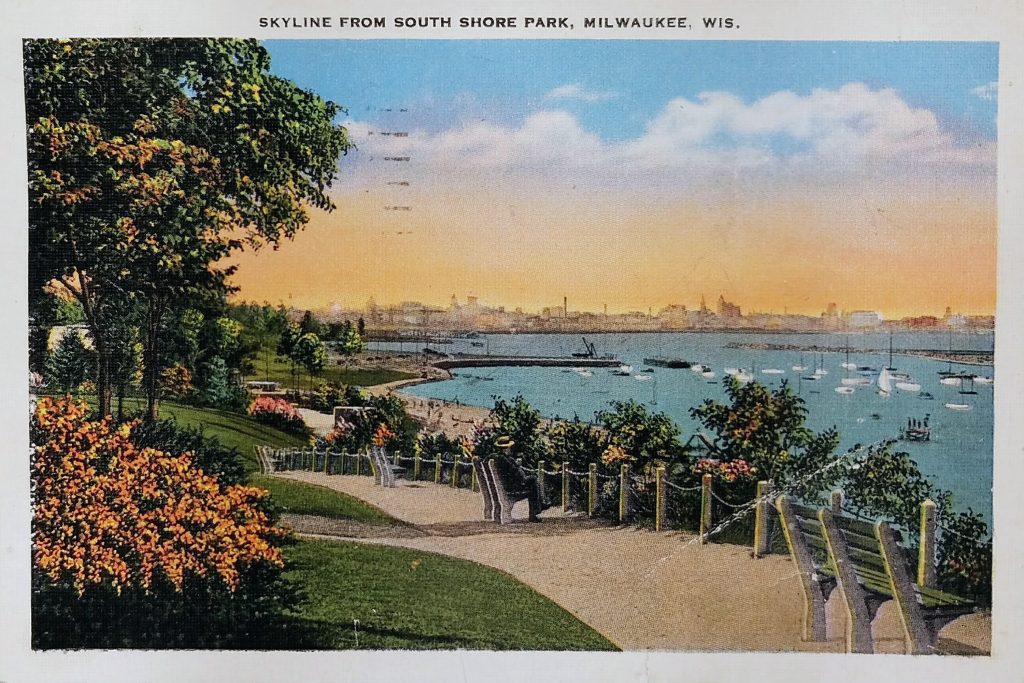 This postcard is postmarked 1937. It shows a lovely view of the Milwaukee harbor and skyline from South Shore Park in the 1930s.
The land for the South Shore Park was originally part of the farm of Bay View pioneer Elijah Stone Estes. Estes moved from North Carolina because he abhorred the slavery that was prevalent in the state. He stopped in Chicago and then headed north to claim land south of Milwaukee. Estes' 150-acre holding ran from the lakeshore to the east, the Chicago & Northwestern track to the west, today's Nock Street on the north, and the St. Francis Seminary on the south.
The land for 47-acre South Shore Park was acquired between 1909 and 1929. The first 15.32 acres of the park were purchased in 1909 for $59,000 and the property was called Seventeenth Ward Lake Shore Park. The current pavilion in the park, which may barely be evident on the left side behind the trees, was constructed in 1934 to replace one built in 1912.
You can see the South Shore Yacht Club club at the base of the hill. The club's first clubhouse was a rented house on Beulah Avenue (now South Shore Drive). The second clubhouse was an old schooner, the LILLY E, that served the club from 1916 to 1921. The ship fell into disrepair during WWI, and in 1921 was driven ashore during a storm. In 1922, yacht club members doused the wrecked ship with oil and watched her burn to embers. The club's current front gate stands immediately above the final resting spot of her bow. The sailing club's next home was a welded steel barge moored at the foot of Nock Street. In October 1929 a fierce storm caused the barge to break free of its mooring, forcing the barge ashore and completely destroying it. In the years following, the city of Milwaukee created land for the new clubhouse by extending the Lake Michigan shoreline at the foot of E. Nock Street, which is what you see in this postcard. The South Short Yacht Club's first true clubhouse was built on the landfill in 1938.
The Milwaukee skyline is over three miles away and a bit indistinct in this postcard.
Sources:
https://urbanmilwaukee.com/2018/10/01/city-streets-estes-street-honors-bay-view-pioneer/
https://stfranciswi.org/DocumentCenter/View/37
https://city.milwaukee.gov/ImageLibrary/Groups/ccClerk/HPC/DOCs/BayviewVol2Pt2.pdf
https://www.ssyc.org/club/our-history/our-origins
https://bayviewcompass.com/early-evolution-of-wisconsin%E2%80%99s-largest-yacht-club/?print=pdf
Identifier:
PLUS Code: X4VC+74 Milwaukee, Wisconsin
Approximate Google Street View today: https://goo.gl/maps/fkR5z14NiMiitQtZ6