Someone who attended one of my presentations this fall was kind enough to send me some pictures she took of the old Chapman Department Store downtown before it was torn down. These pictures are attached along with a short history of the building. A big thanks to Gwen Mickey!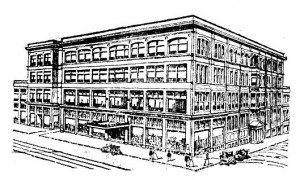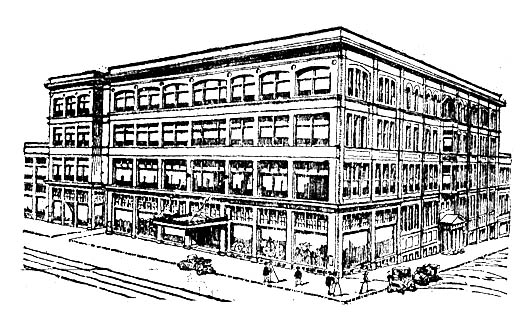 On the south side of East Wisconsin Avenue between Milwaukee and Jefferson Streets there stood one of the earliest and longest standing department stores in the city. Chapman Department stores were located there since its founding in 1857 until it finally filed for bankruptcy in 1987. The store was built in 1885 after a fire destroyed the previous Chapmans Dry Goods store that stood there since 1872. The design was a modern commercial style of white brick with decorations of terra cotta in a French Renaissance style. Mr. Chapman had the best materials used to build his store including highly polished granite for columns, Ohio sandstone and Tennessee marble. Beautifully painted frescoes adorned the store with classical figures that made the customer feel as if they were in a place of elegance. This was no ordinary store and even the offerings were of the best quality so that it became known as the "Palace of Trade".
In 1911, several adjacent buildings to the east were combined in a large-scale renovation. The Wisconsin Avenue facade was modernized in 1930 but the Milwaukee Street elevation remained as it had originally with the large bay window on the upper floors above the Greek inspired portico at the side entrance.
The store expanded into Madison and Appleton and a few other locations in Milwaukee during its last 9 years. The downtown Milwaukee store closed in 1981 and was torn down to make way for the 30 story 411 Building which was finished in 1985. A few items from the Chapman's building remain, most notably the fireplace which is on permanent display at the Milwaukee County Historical Society.
Some of the last pictures taken inside the building were by Gwen Mickey. The fireplace stood in the center of the main floor and cost $6,000 back in 1885. It had three identical sides which were used to warm shoppers on cold days. In the back of each fireplace there was the symbol of the Phoenix, rising from the ashes. A picture above the mantel was of Timothy Appleton Chapman himself.
Italian muralist and painter, Vergilio Tojetti painted several of the murals which can be seen here. This was one of two skylights which were originally above an atrium which opened all of the way to the main floor. The murals represented Spring, Summer, Autumn, and Winter with classical motifs.