I love old photos and the Library of Congress has a great collection of online images that can be searched. There is a series of Milwaukee pictures by veteran Life magazine photographer Carl Mydans taken in April 1936. I have looked at these photos many, many times and most of them show areas of town that have been struck by "urban renewal". As a result, you have to take for granted that these older areas of the city are forever gone.
Several of the photos have labels and descriptions that I know are not right and don't make sense from what I know. The following picture is one of those that have bugged me and it has a description of "View from living quarters at 730 West Winnebago Street". That area of Winnebago Street across from the old Pabst Brewery is long demolished after the Park East Freeway was built in the late 1960s. I have the large size of the picture as my PC desktop background so I see it all of the time and it was a surprise when I was driving back from Bay View on KK a few weeks back that I glanced over and saw houses that looked like those in the photo. It was an "aha" moment and when I got home, I looked at Google Maps and sure enough, these were the houses I was looking for and they, for the most part, still exist but in the wrong location.
Mislabeled historic photos can be found in many places. There is another one on the Library of Congress website that was identified wrong here and is actually around 9th & Clybourn. Gary Rebholz of Milwaukee German Newspapers Index showed me a few pictures on the Milwaukee Public Library digital collection website that had erroneous descriptions. They have since been corrected.
So the moral of the story is don't believe everything you read about where that old photo is from. Chances are that somebody screwed up. Keep your eyes open – history is all around you!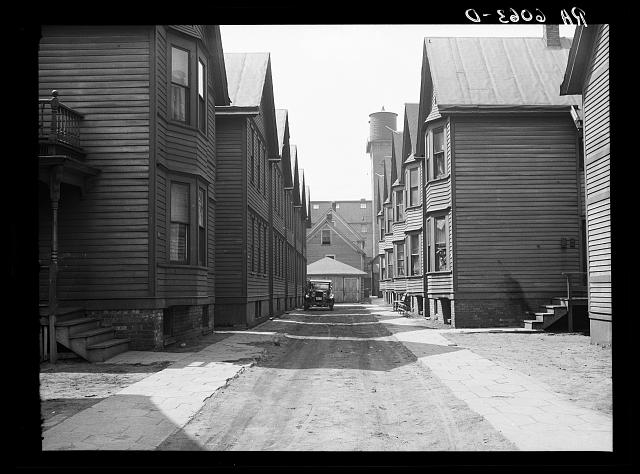 The row-houses as they look today with a few that have been torn down: