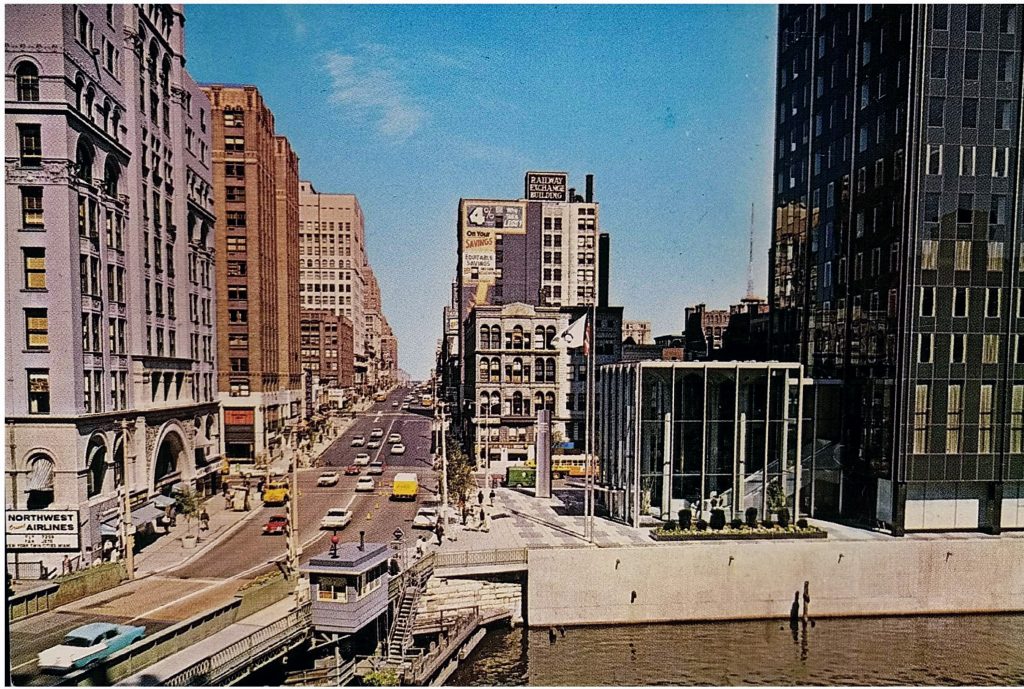 This undated postcard from the 1960s shows the view from the Gimbel's building looking east down Wisconsin Avenue.
On the left in the foreground is the Pabst Building, Milwaukee's first skyscraper, which was razed to make room for the 100 East Building. Demolition began in December 1980 and was done at night and on weekends to protect passersby.
By February 1981, much of the building was gone except for the beautiful entry archway you can see in this postcard. In a February 17, 1981 editorial entitled "Beauty vs. the Wrecking Ball," the Milwaukee Journal made an appeal for donations to save and relocate the arch. Preservationists unsuccessfully attempted to raise enough money to salvage the arch, and eventually, the demolition company offered to remove it at no cost if it could be toppled without seriously damaging the historic archway. Unfortunately, on April 2, 1981, eighty-nine years after the Pabst Building's archway first welcomed guests, it was destroyed when the salvage crew was unable to bring it down unharmed. "When the archway slammed down, it shook the whole East Side," said the preservationist working with the wrecking crew.
Directly across the street from the Pabst Building, in the foreground on the right, is what was then the Marine Bank Building, now known as Chase Tower. It opened in 1961.
Behind the Marine, on the southeast corner of Wisconsin and Water Streets, is the Iron Block Building. Over the years, it was known as the Martin's Block (after James Baynard Martin who built it) and the Excelsior Block or Masonic Hall (since the Excelsior Masonic Lodge had its meeting rooms on the top floor). It was built in 1861 and is Milwaukee's only remaining cast-iron façade building. It was added to the National Register of Historic Places in 1974.
Behind the iron block on the south side of Wisconsin Ave, you can see the 12-story Railway Exchange Building, which also still stands today. It was built in 1901 and served as the headquarters of the Chicago and Northwestern Railway from 1901–1945. It was the work of William LeBaron Jenney, known worldwide as the "father of the skyscraper," and is his only Milwaukee building.
Sources:
https://0-infoweb-newsbank-com.countycat.mcfls.org/apps/news/openurl?ctx_ver=z39.88-2004&rft_id=info%3Asid/infoweb.newsbank.com&svc_dat=WORLDNEWS&req_dat=0D8DE8DE83992E4A&rft_val_format=info%3Aofi/fmt%3Akev%3Amtx%3Actx&rft_dat=document_id%3Aimage%252Fv2%253A119BAA7547AD9B50%2540EANX-NB-16FB2880C2357E09%25402444591-16FB24B9B931B74E%25404-16FB24B9B931B74E%2540/hlterms%3A%2522Pabst%2520building%2522
https://0-infoweb-newsbank-com.countycat.mcfls.org/apps/news/openurl?ctx_ver=z39.88-2004&rft_id=info%3Asid/infoweb.newsbank.com&svc_dat=WORLDNEWS&req_dat=0D8DE8DE83992E4A&rft_val_format=info%3Aofi/fmt%3Akev%3Amtx%3Actx&rft_dat=document_id%3Aimage%252Fv2%253A1477BBDEA50EB75C%2540EANX-NB-16325D4CF7643D1D%25402444653-1631CDC6367B756D%25409-1631CDC6367B756D%2540/hlterms%3A%2522Pabst%2520building%2522
https://0-infoweb-newsbank-com.countycat.mcfls.org/apps/news/openurl?ctx_ver=z39.88-2004&rft_id=info%3Asid/infoweb.newsbank.com&svc_dat=WORLDNEWS&req_dat=0D8DE8DE83992E4A&rft_val_format=info%3Aofi/fmt%3Akev%3Amtx%3Actx&rft_dat=document_id%3Aimage%252Fv2%253A119BAA7547AD9B50%2540EANX-NB-16FB40727B2C3964%25402444697-16FB3100EC4600C0%25404-16FB3100EC4600C0%2540/hlterms%3A%2522Pabst%2520building%2522
https://www.wisconsinhistory.org/Records/Property/HI16292
https://en.wikipedia.org/wiki/Iron_Block_Building_(Milwaukee,_Wisconsin)
https://npgallery.nps.gov/NRHP/GetAsset/NRHP/74000105_text
https://onmilwaukee.com/history/articles/railwayexchange.html
Identifiers:
PLUS Code: 23QQ+CR Milwaukee, Wisconsin
Approximate Google Earth view today: https://earth.google.com/web/@43.03857055,-87.90895732,176.12857143a,110.73004225d,35y,84.60775985h,76.7466551t,0r/data=CiUaIxIdCgAZDi2yne-ERUAhVOOlm0T6VcAqBzIzUVErQ1IYASAB