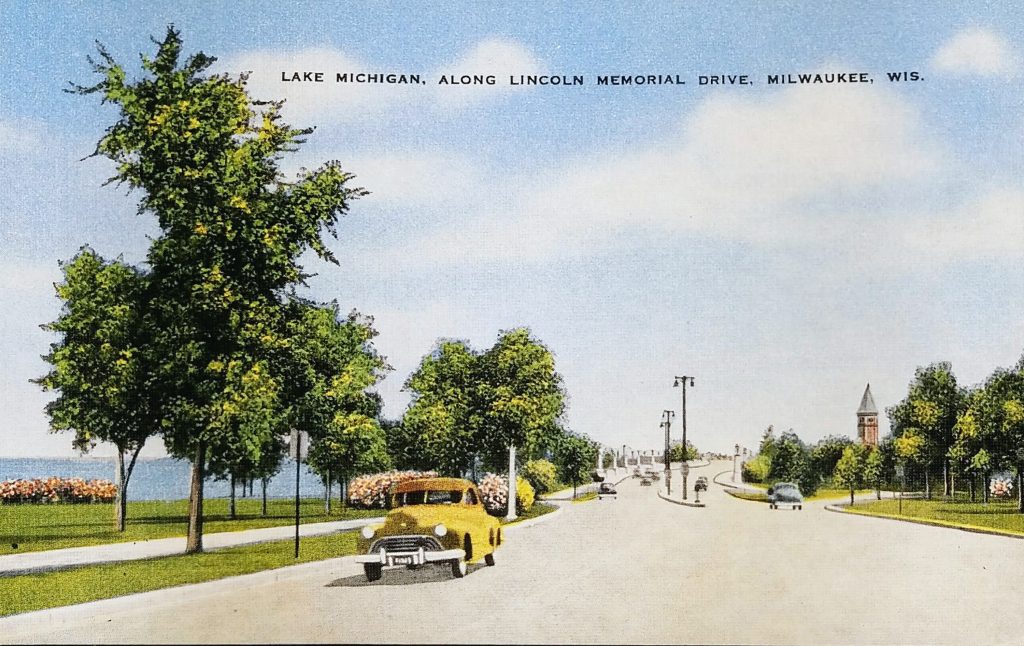 This undated postcard must come from around 1950. I'm no automobile expert, but based on the unique grill, that looks like a late 40s Oldsmobile on the left.
Lincoln Memorial Drive opened in 1929. You can see the Lake Front Depot (peeking above the trees) which came down in 1968. And you'll note that the Eero Saarinen-designed War Memorial building is missing; that opened in 1957.
When Milwaukee was first settled, none of this was land. At the beginning of the 20th century, many city residents wishing to view Lake Michigan were limited to seeing it from either Juneau or Lake Parks. Mansions above the bluffs along N. Prospect Avenue blocked most of the vistas. Sunbathers and swimmers who wanted to go to the small beaches below the bluffs went via one of the parks. Reaching the water from Juneau Park required crossing four sets of railroad tracks.
City councilman wanted residents to have more access, so they secured from the state legislature permission to create a 300-foot-wide strip of lake bed along the shoreline between Juneau and Lake Parks in the 1890s. Between 1917 and 1937, Milwaukee filled in over 77 acres of submerged land to create the downtown lakefront.
You can see a shot of Lincoln Memorial Drive in 1929, and you'll note how much mature the trees look in this postcard. You can also see the Cudahy Tower being constructed on the far right: http://content.mpl.org/cdm/singleitem/collection/HstoricPho/id/8444/rec/16
In 1929, when the Drive opened, it wasn't paved the entire way north. You can see the dirt road along Lake Park, next to the old Gun Club (and current rugby field) in this old shot: http://content.mpl.org/cdm/singleitem/collection/HstoricPho/id/8436/rec/8
Sources:
https://i.pinimg.com/originals/c2/5d/ae/c25daebd7d2458b3b0c97c9c3acced9c.jpg
https://urbanmilwaukee.com/2016/05/20/city-streets-lincoln-memorial-dr-was-under-water/
https://mam.org/info/details/war-memorial.php
Identifiers:
PLUS Code: 24V3+59Milwaukee, WI, USA
Approximate Google Street View today: https://goo.gl/maps/EQ6RqfZbRFNq1ZG37