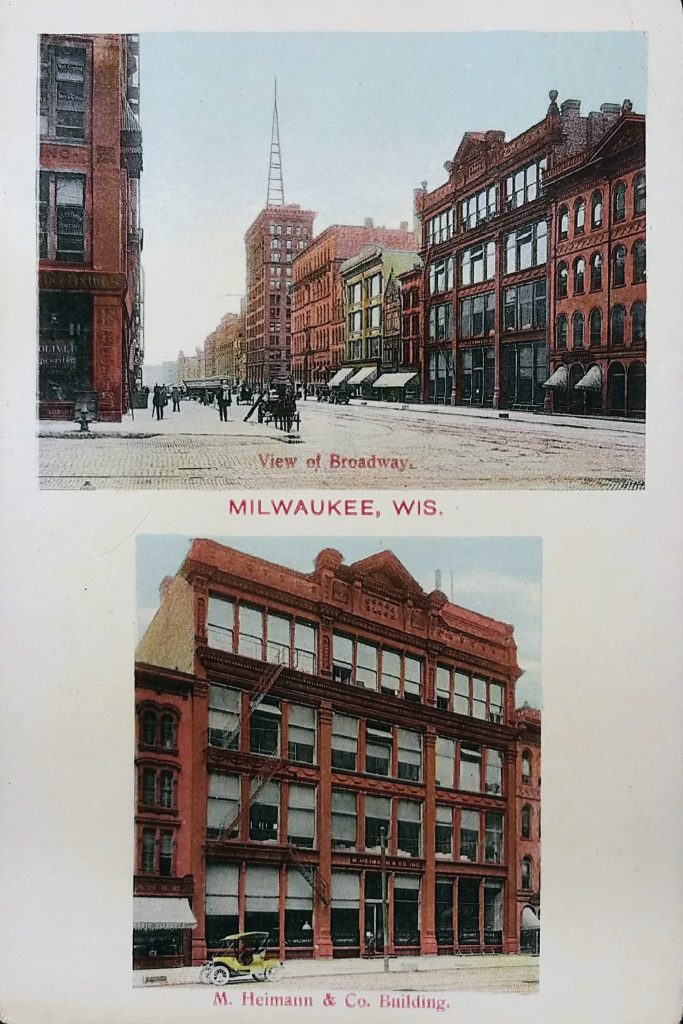 This undated postcard shows a block of buildings along Broadway that no longer exists. This view is facing south from Mason toward Wisconsin Avenue. The tall building with the tower is the Railway Exchange Building, built in 1901 and still standing today. Everything to the right of that, however, is gone. Presently, the Two-Fifty Building (250 East Wisconsin) and its parking garage occupy this block.
The first building on the end of the block, the five-story structure across Wisconsin from the Railway Exchange Building, is the Broadway Building, Northwestern Mutual Life's first office from 1870 to 1885. It was built in 1870 with a mansard roof, but this was partially burned in a fire in 1901 and rebuilt to make a complete floor. In 1940, the building was cut down to two floors and was eventually demolished in 1965.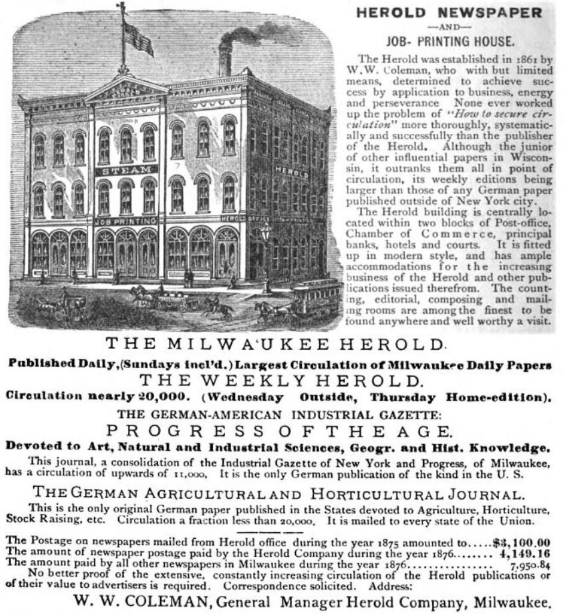 On the far right, the four-story building with the two curved awnings at street level is the Herold Building. It was built in 1861 as the Bentley European Hotel, bought by the Herold in 1875 and renovated for Herold publisher, William Coleman. The Herold was a German-language newspaper.
In 1885, the Milwaukee Press Club was formed following a meeting in the Herold Building, and it served as the Club's first offices. The Milwaukee Press Club is the oldest continuously operating press club in North America, and possibly the world. The building was demolished in 1941.
The M. Heimann & Co. Building is featured on the lower half of this postcard. The company launched in 1857 on E. Water Street and moved here in 1872. The business was "exclusively millinery" (makers of hats) and in 1881 it was "one of the largest wholesale houses in the northwest," employing "ten men in the store" and "125 persons in the house daily, including ladies engaged in manufacturing flowers." In 1881, the business reported trade of $300,000 to $400,000 per annum, which would be roughly $8 to $10 million in 2020 dollars.
This building was destroyed in a terrible fire in 1918. The blaze was so serious "a repetition of the Third Ward conflagration seemed imminent." The Sentinel reported that the fire "threatened for a time to destroy the entire block." (The October 15, 1918 edition that reported on the fire was "issued under extreme difficulties" since the newspaper's officers were in the Herold building, adjacent to the Heimann Building, and were damaged in the fire.) Two firefighters and two spectators were hurt during the blaze.
Sources:
https://milwaukeepressclub.org/about-us/our-history/
https://books.google.com/books?id=XD4VAAAAYAAJ&lpg=PA461&ots=xDVT3S6K4g&dq=Herold%20Building%20milwaukee&pg=PA461#v=onepage&q=Herold%20Building%20milwaukee&f=false
https://books.google.com/books?id=bso_AQAAMAAJ&lpg=PA683&dq=M.%20Heimann%20%26%20Co.%20Building%20Milwaukee&pg=PA683#v=snippet&q=heimann&f=false
https://0-infoweb-newsbank-com.countycat.mcfls.org/apps/news/openurl?ctx_ver=z39.88-2004&rft_id=info%3Asid/infoweb.newsbank.com&svc_dat=WORLDNEWS&req_dat=0D8DE8DE83992E4A&rft_val_format=info%3Aofi/fmt%3Akev%3Amtx%3Actx&rft_dat=document_id%3Aimage%252Fv2%253A119BAA7547AD9B50%2540EANX-NB-16D57F1FD6E7F813%25402421882-16D3E58F6ECFF1C2%25400-16D3E58F6ECFF1C2%2540/hlterms%3AM%2520Heimann%2520%2526%2520Co%2520Building
Identifiers:
PLUS Code: 23QR+XR Milwaukee, Wisconsin
Approximate Google Street View today: https://goo.gl/maps/GfsrhPrveVLSqJZh8