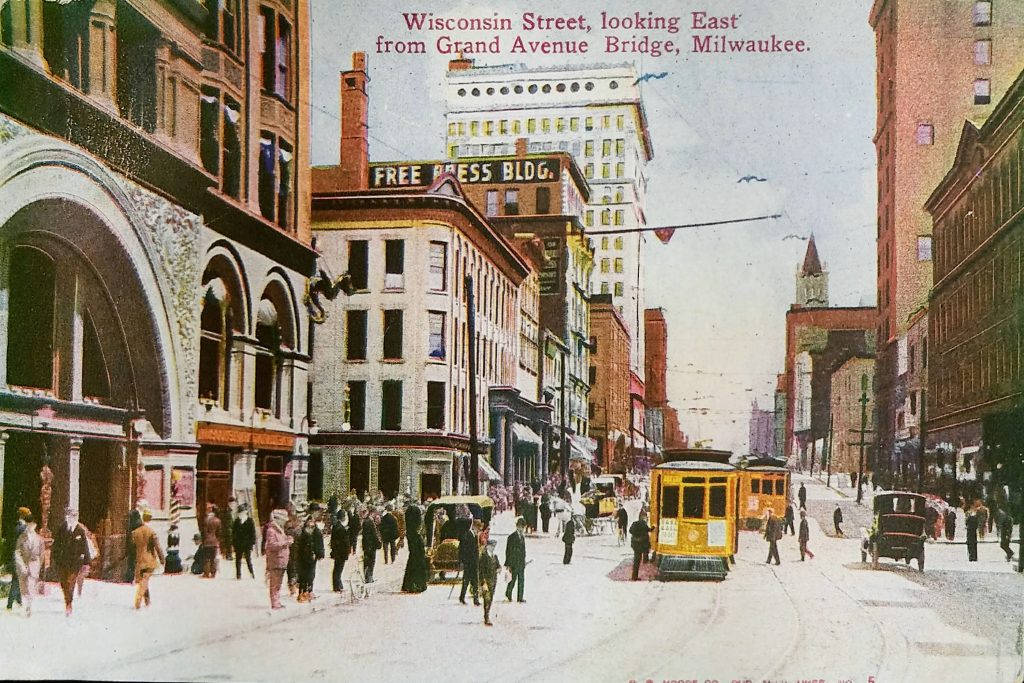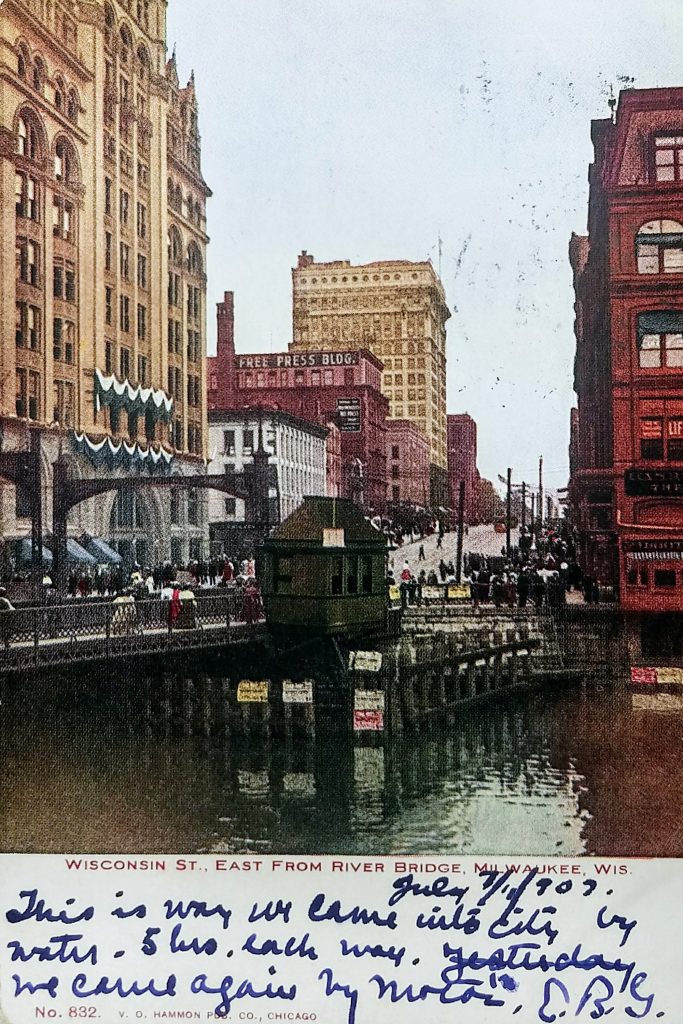 This postcard on top is postmarked 1910 and the one on the bottom is dated 1907. They show the view looking east on what is now Wisconsin Avenue from the east and west side of the bridge over the Milwaukee River. In this era, this route was known as Wisconsin Street east of the river and Grand Avenue west.
On the far right of the top postcard is the Iron Block (or Excelsior Block) Building, and rising behind it the Railway Exchange Building. In the distance, on the right, you can see the tower of the Federal Building. All three of these historic buildings still stand on the south side of Wisconsin Avenue.
On the lower postcard, the red building on the far right is the Mack building. It housed the Golden Eagle Clothing Store in its early years and the Marine Bank before it was razed to make way for Marine Bank tower (which is now Chase Tower). It was built in 1882 and demolished in 1959.
On the left is the Pabst Building. From this vantage point, you can see the lovely stone archway that preservationists unsuccessfully tried to save when the building was razed.
On the left, with the "Free Press" sign, is a building that was first known as the Insurance Building, later the Free Press Building, and finally the Broadway Building. It was built in 1870 and got its first name because it was Northwestern Mutual Life's first Milwaukee office (after the company moved from Janesville). In 1885, the insurance firm moved one block south, to a building on the northwest corner of Broadway and Michigan.
The Broadway Building was one of the first buildings in Milwaukee to have elevators. It was also one of the first places where the new typewriter was given a trial, but Northwestern Mutual president H. L. Palmer rejected the innovation. Over the years, the character of the building changed quite a bit, as you can see from historic photos. It originally had a Mansard roof and a great deal of detail on the upper floors. In 1901, a fire partially destroyed the Mansard roof, and when the top floor was rebuilt, much of the detail was lost. In 1940, the six-story building was cut down to two floors, which were used for retail. Then, in 1965, the building was finally razed.
Behind the Broadway Building is the Wells Building, a 15-story structure with a white terra cotta brick exterior. It was built in 1901 and still stands today, although the ornate cornice work on the top floor was later removed due to deterioration and replaced with plain brick. The century-old building may not look it, but it's a telecommunications hub for Milwaukee, and more than 30 carriers lease space here for data and voice gear.
Sources:
https://content.mpl.org/digital/collection/RememberWhe/id/411/
https://content.mpl.org/digital/collection/HstoricPho/id/1152
https://content.mpl.org/digital/collection/HstoricPho/id/360/rec/6
https://content.mpl.org/digital/collection/HstoricPho/id/266
https://content.mpl.org/digital/collection/HstoricPho/id/448
https://www.wisconsinhistory.org/Records/Image/IM48075
https://books.google.com/books?id=kSr9CwAAQBAJ&lpg=PT121&ots=Kkf4OvnB7z&dq=Milwaukee%20%22free%20press%22%20%22northwestern%20Mutual%22&pg=PT121#v=onepage&q=Milwaukee%20%22free%20press%22%20%22northwestern%20Mutual%22&f=false
https://onmilwaukee.com/history/articles/wells-building-urban-spelunking.html
Identifiers:
PLUS Code: 23QR+C4 Milwaukee, Wisconsin
Approximate Google Street view today: https://goo.gl/maps/GTm4VpFs2KwXDoNP9