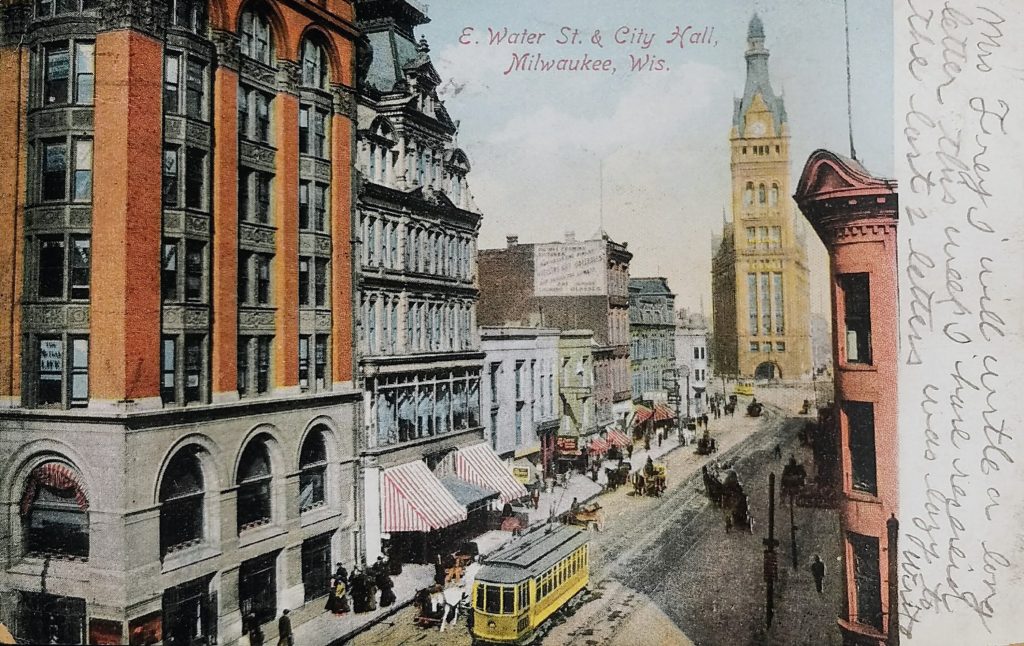 The postmark on this one is difficult to read but appears to be from 1909. This shot looks north on Water Street from the Iron Block building on Wisconsin. The only building in this photo that is still standing today is City Hall.
The postcard calls the street "East Water Street." Today, this stretch of street is known as North Water Street, but prior to the 1930s, this was called East Water Street to differentiate it from West Water Street (now called Plankinton Avenue) which ran parallel to the river on the west.
The scene depicted was where Milwaukee was originally founded. Solomon Juneau's cabin and trading post were located here in the early 19th Century.
To the left are the bottom floors of the Pabst Building (1892 to 1981).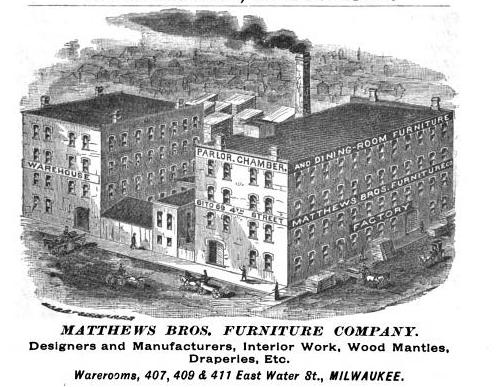 Just beyond that is the Matthews Bros building. Matthews Bros. was considered one of Milwaukee's most celebrated furniture manufacturers. It was founded by brothers Eschines and Alonzo Matthews. They moved from Ohio to Milwaukee in 1856 and occupied many addresses before arriving at this spot. In 1857, Matthews Bros was founded on East Water between Biddle and Martin (now known as Kilbourn and State). Three years later they moved to a new location on East Water between Biddle and Oneida (Kilbourn and Wells). In 1863, the brothers relocated to a store on the west side of this block on East Water. In 1870, the firm built a manufacturing plant on 4th and Wisconsin that still stands today. In 1874, Matthews Bros moved their showroom from Water Street to Broadway, before finally arriving at this lovely building (401, 409 and 411 East Water Street) in 1879. This building was erected by the Philip Best Brewing Company. It was later occupied by Waldheim & Co. Furniture.
The Marshall & Ilsley Bank is not yet constructed on the west side of the street. That happened in 1913. And at the end of the block on the west side, the First Wisconsin National Bank would be built in 1914.
The focus on the shot is, of course, Milwaukee City Hall. Built in 1895, it was the tallest building in the world until 1899 (when NYC's Park Row Building eclipsed it). It remained the tallest building in Milwaukee for 78 years. The upper part of the tower was rebuilt after a fire in October 1929.
City Hall was added to the National Register of Historic Places in 1973 and declared a National Historic Landmark in 2005.
Sources:
https://books.google.com/books?id=7CXCkW3FOAgC&lpg=PA210&ots=n7IWBFVU2e&dq=407%20409%20411%20%22east%20water%20street%22%20milwaukee&pg=PA210#v=onepage&q=407%20409%20411%20%22east%20water%20street%22%20milwaukee&f=false
https://books.google.com/books?id=CQVJAQAAMAAJ&lpg=PA31&ots=A_M3wGkSg8&dq=407%20409%20411%20%22east%20water%20street%22%20milwaukee&pg=PA31#v=onepage&q=407%20409%20411%20%22east%20water%20street%22%20milwaukee&f=false
https://books.google.com/books?id=8JgvAQAAMAAJ&lpg=PA1518&ots=hXB895NXWb&dq=407%20409%20411%20%22east%20water%20street%22%20milwaukee&pg=PA1518#v=onepage&q=407%20409%20411%20%22east%20water%20street%22%20milwaukee&f=false
https://brittlebooks.library.illinois.edu/brittlebooks_open/Books2008-06/buckja0001piohis/buckja0001piohisv00004/buckja0001piohisv00004.pdf
https://urbanmilwaukee.com/2016/02/09/yesterdays-milwaukee-pabst-building-1890s/
https://www.worldofarchi.com/2013/01/tallest-building-in-world-tittle.html
https://npgallery.nps.gov/NRHP/AssetDetail?assetID=7cd2a2c0-6aae-47bf-aade-4c798c0824f6
Identifiers:
PLUS Code for City Hall: 23RR+G4 Milwaukee, Wisconsin
Approximate Google Earth View today: https://earth.google.com/web/@43.03900673,-87.909298,190.90933456a,63.58584328d,35y,-26.85735666h,80.8908923t,0r/data=ClYaVBJOCiUweDg4MDUxOWE3NGMxMDRhODc6MHg3YzMyZWMyMDNlODJmOWRhGZ9VZkrrhEVAIYYRDDEo-lXAKhNJcm9uIEJsb2NrIEJ1aWxkaW5nGAIgAQ
Approximate Google Street View today: https://goo.gl/maps/z9qVw2B3GfdcU7S17