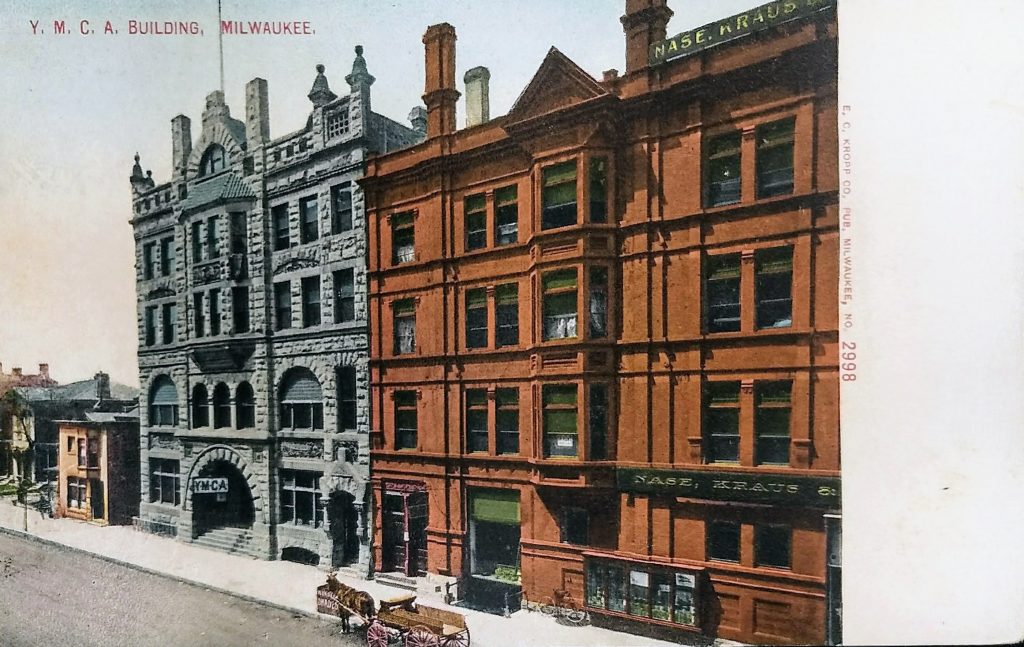 This postcard is undated but seems to be from the first decade of the 20th Century. We can ascertain the date because to the south of this YMCA building, which was built in 1887, the organization expanded by constructing a taller building in 1909. And beyond that, the Maryland Hotel was completed in 1910. Both YMCA buildings were demolished in 1966, and the Hotel Maryland came down in 1984.
This shot is of the west side of 4th Street between Wisconsin and Michigan Avenues. Today, this is an open parking lot on the north, and on the south is a parking structure with a skywalk to the old Boston Store building across the street.
In 1887, when this building opened, the Milwaukee YMCA was among the first in the nation to offer dormitories. The Milwaukee Y started separating men and boys, and this building became the "Boys building" when the larger extension was built for men next door.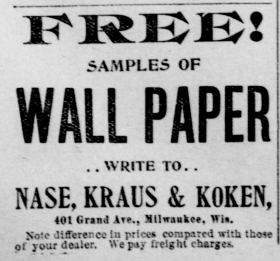 The building on the right has signs for "Nase, Kraus & Koken," a company that made wallpaper. This building was razed to make way for the New Hotel Randolph, which opened in 1927.
In 1981, the city's Redevelopment Authority named this block a prime development site. In 1984 the city acquired the Randolph, and four months later, it closed the hotel and evicted its remaining tenants. On July 21, 1985, the building was imploded, and for over 35 years this "prime redevelopment site" has remained empty, operating as a surface parking lot.
Sources:
https://content.mpl.org/digital/collection/RememberWhe/id/265
https://books.google.com/books?id=2ZkxNOeCns0C&lpg=PP1&pg=PA125#v=onepage&q=Milwaukee%20YMCA&f=false
https://books.google.com/books?id=wiyr3GYXiIEC&lpg=PA152&ots=6C2uKHo0cI&dq=Milwaukee%20YMCA%20was%20among%20the%20first%20in%20the%20nation%20to%20offer%20dormitories&pg=PA152#v=onepage&q=Milwaukee%20YMCA%20was%20among%20the%20first%20in%20the%20nation%20to%20offer%20dormitories&f=false
https://books.google.com/books?id=D9neAAAAMAAJ&lpg=PA82&ots=AjvFYgBACb&dq=Milwaukee%20YMCA%20%22Boys%20building%22&pg=PA82#v=onepage&q=Milwaukee%20YMCA%20%22Boys%20building%22&f=false
http://archive.jsonline.com/greensheet/randolph-hotel-came-tumbling-down-on-wisconsin-ave–in-1985-b99698896z1-374701041.html
Identifiers:
PLUS Code: 23QM+7G Milwaukee, Wisconsin
Approximate Google Street View today: https://goo.gl/maps/WRg4U2GcCwaWfUrf8