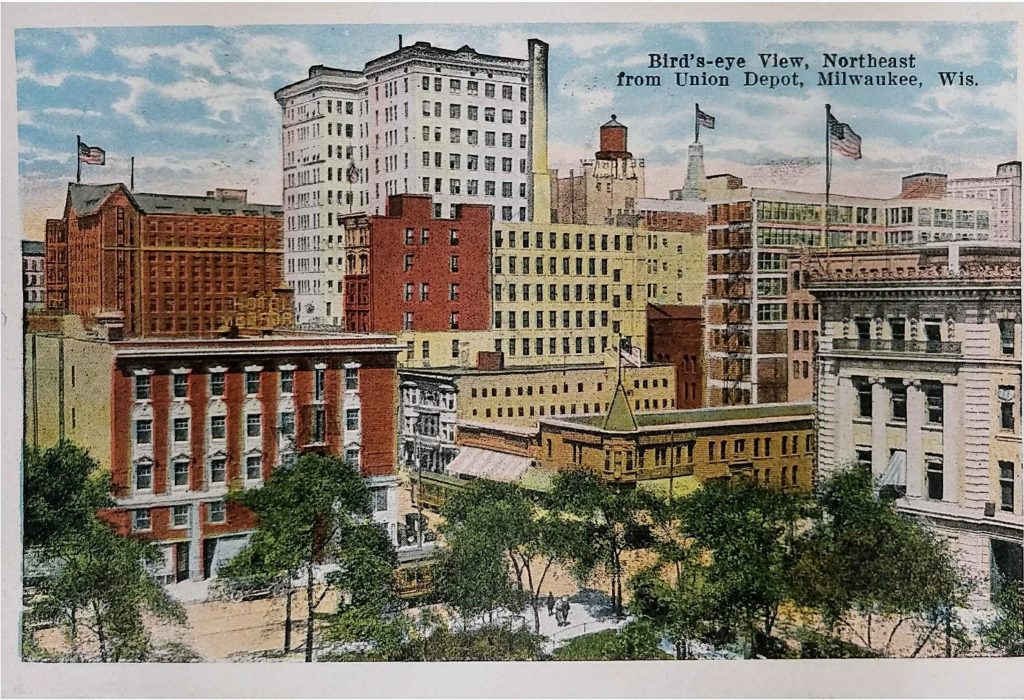 The postmark on this postcard is 1928. This shot is a view looking northeast from Union Station (also known as Everett Street Station and Milwaukee Union Depot). The station opened in 1886, was replaced by the Milwaukee Intermodal Station (the Amtrak station on St. Paul Avenue) in 1965, and was razed the next year following a fire that damaged the building.
Today, you will find the WE Energies annex building where Union Station once stood. It is on Everett Street, between 2nd Street and Vel R. Phillips Avenue/4th Street. The street is parallel to Michigan Avenue, which you can see running left to right in the foreground of this image. The station faced the Fourth Ward Park (now known as Zeidler Park), seen at the bottom of the postcard.
Several of the buildings in this shot still stand. The stately white and cream building on the right is the Milwaukee Interurban Terminal, which was opened in 1905 by The Milwaukee Electric Railway and Light Company. At the time, it was the largest terminal of its kind in the United States. Today, that building is the WE Energies headquarters at 231 W Michigan Steet.
The white building standing tall in the center also still exists and is attached to what was the Grand Avenue Mall. The Majestic Building was built in 1907 by the Schlitz Brewing Company. It once housed the Majestic, the second-largest vaudeville theater downtown. After hosting acts including the Marx Brothers, Eddie Cantor, Jack Benny, Fanny Brice, and George M. Cohan, the Majestic closed in 1932. The building today houses the Majestic Loft Apartments.
And to the left, the tall, red building with the peaked gable roof and flag also still stands. It is the former Hotel Wisconsin, which opened in 1913. Many famous people visited the Hotel Wisconsin, including first lady Eleanor Roosevelt and comedy duo Laurel & Hardy. In the 1990s, a favorite restaurant of mine, Cafe Melange, was on the first floor. Today the building is The Grand Wisconsin apartments.
The middle flag sits atop the Milwaukee City Hall in the distance.
The buildings in the foreground are all gone–this is where the Courtyard Marriott now stands.
Sources:
https://en.wikipedia.org/wiki/Everett_Street_Depot
http://www.wisconsinhistoricalmarkers.com/2012/08/marker-234-milwaukee-interurban-terminal.html
https://www.wisconsinhistory.org/Records/Property/HI41861
http://www.wisconsinhistoricalmarkers.com/2014/10/historic-milwaukee-west-wisconsin-avenue.html
https://onmilwaukee.com/visitors/articles/urban-spelunking-hotel-wisconsin.html
Identifiers:
PLUS Codes: 23PM+HV Milwaukee, Wisconsin
Approximate Google Earth view today: https://earth.google.com/web/@43.03753846,-87.91476257,190.93950686a,85.55386167d,35y,23.49206988h,82.90810522t,0r