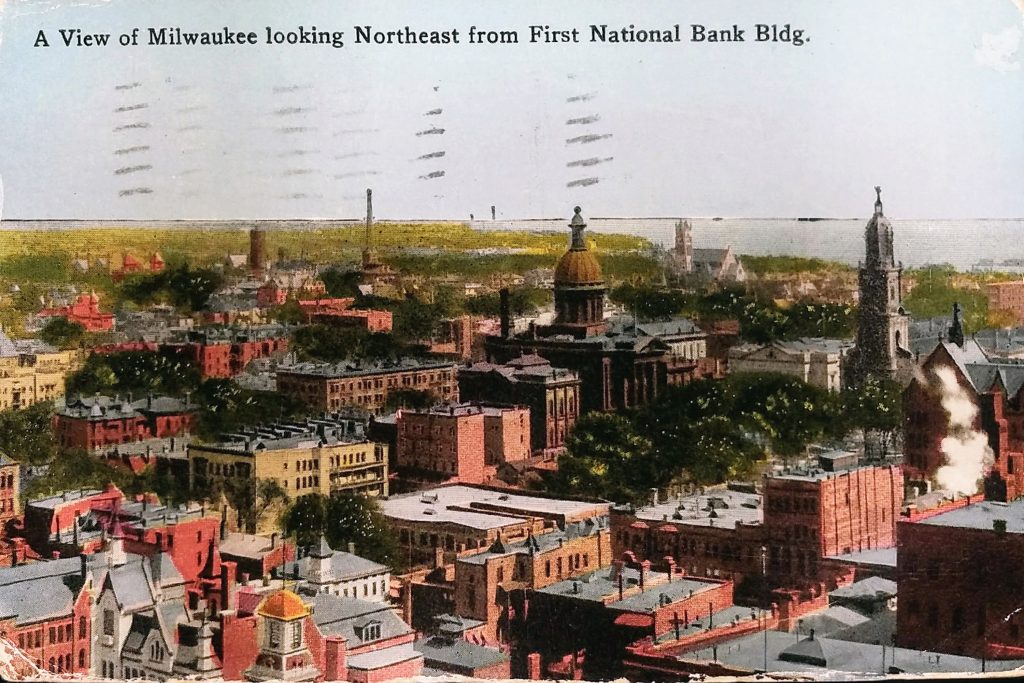 This postcard, postmarked 1916, shows the view northwest from the First National Bank Building on the southwest corner of Water and Mason Streets. The 16-story building was opened in 1914.
On the right side, you see the spire of the Cathedral of St. John the Evangelist. This is one of Milwaukee's oldest buildings still standing. The church was built from 1847 to 1853, and the tower added in 1893 after the original spire deteriorated. A fire partially destroyed portions of the church in 1935, and it was rebuilt. St. John's parish was founded in 1837 and was Milwaukee's first Roman Catholic congregation. The parish church was elevated to cathedral status in 1841 when papal authority created the Milwaukee Archdiocese.
In front of the church is Court House Square, which today is known as Cathedral Square Park, but if you look closely, it is smaller than today's park. In the northern half of today's park footprint, you can see the old county courthouse–it's the brown building with the large rotunda. The west wing of the courthouse was completed in 1869 and the remainder was finished in 1873. It was demolished in 1939 after the third and current courthouse was completed in 1931.
This was Milwaukee's second courthouse. The first, which was located on this same site, was given to the county by Solomon Juneau, Milwaukee's founder, and his partner, Morgan L. Martin. Juneau and Martin sold the land for the courthouse to the county for $1 with the stipulation it be used for public purposes and revert back to Juneau heirs if the courthouse was subsequently relocated.
In 1932, Juneau's grandchildren threatened legal action to be compensated for the land, since the courthouse was being relocated. The County granted old-age pensions of $25 per month each to the three Juneau grandchildren (roughly $500 in 2020 dollars). Less than a year later, one of those grandchildren, Frank Juneau, passed away, and the Milwaukee Journal reported he had been penniless and living with his sisters in a home in Milwaukee's Riverwest neighborhood. In fact, his sisters, Mary Stoughton Juneau and Pauline Juneau could no longer afford their shared home and were forced to seek a new residence upon the loss of their brother's pension.
In the distance, you can see another church soaring on Milwaukee's East Side. That is the Immanuel Presbyterian Church on Astor. It was built in 1874 and rebuilt in 1889 after a fire almost entirely destroyed the original.
Behind the courthouse (to the left in this postcard), you can see the four-story Jefferson Apartments. The entire building was moved approximately 50 feet to the north in 1940 due to street widening. It was demolished in 1967, and today MSOE Library occupies that spot.
Sources:
https://www.wisconsinhistory.org/Records/Property/HI27243
https://urbanmilwaukee.com/2014/12/04/yesterdays-milwaukee-county-courthouse-early-1870s/
https://collections.lib.uwm.edu/digital/collection/mkenh/id/322
https://0-infoweb-newsbank-com.countycat.mcfls.org/apps/news/openurl?ctx_ver=z39.88-2004&rft_id=info%3Asid/infoweb.newsbank.com&svc_dat=WORLDNEWS&req_dat=0D8DE8DE83992E4A&rft_val_format=info%3Aofi/fmt%3Akev%3Amtx%3Actx&rft_dat=document_id%3Aimage%252Fv2%253A1477BBDEA50EB75C%2540EANX-NB-16477F6854A413FD%25402426885-16476F7DB5A8C337%254012-16476F7DB5A8C337%2540/hlterms%3ASolomon%2520Juneau%2520courthouse%2520lawsuit
https://0-infoweb-newsbank-com.countycat.mcfls.org/apps/news/openurl?ctx_ver=z39.88-2004&rft_id=info%3Asid/infoweb.newsbank.com&svc_dat=WORLDNEWS&req_dat=0D8DE8DE83992E4A&rft_val_format=info%3Aofi/fmt%3Akev%3Amtx%3Actx&rft_dat=document_id%3Aimage%252Fv2%253A1477BBDEA50EB75C%2540EANX-NB-16471F16335B3F04%25402427193-164719AE506FB8A1%254016-164719AE506FB8A1%2540/hlterms%3A%2522Mary%2520Stoughton%2520Juneau%2522
https://0-infoweb-newsbank-com.countycat.mcfls.org/apps/news/openurl?ctx_ver=z39.88-2004&rft_id=info%3Asid/infoweb.newsbank.com&svc_dat=WORLDNEWS&req_dat=0D8DE8DE83992E4A&rft_val_format=info%3Aofi/fmt%3Akev%3Amtx%3Actx&rft_dat=document_id%3Aimage%252Fv2%253A1477BBDEA50EB75C%2540EANX-NB-16471F32AE56E1CC%25402427200-16471CCE712D2C81%254016-16471CCE712D2C81%2540/hlterms%3A%2522Mary%2520Stoughton%2520Juneau%2522
https://www.wisconsinhistory.org/Records/Image/IM56048
Identifiers:
PLUS Code: 23QR+W6 Milwaukee, Wisconsin
Approximate Google Earth view today: https://earth.google.com/web/@43.0419021,-87.90533862,205.66577421a,252.50339622d,35y,46.4303776h,81.11410777t,-0r/data=Cl8aXRJXCiUweDg4MDUxOTA0MGU3ZWJkNDc6MHhiMWExNDM2YzE4NWYzMGEwGU74W_HDhUVAIXqcs0-R-VXAKhxJbW1hbnVlbCBQcmVzYnl0ZXJpYW4gQ2h1cmNoGAEgAQ