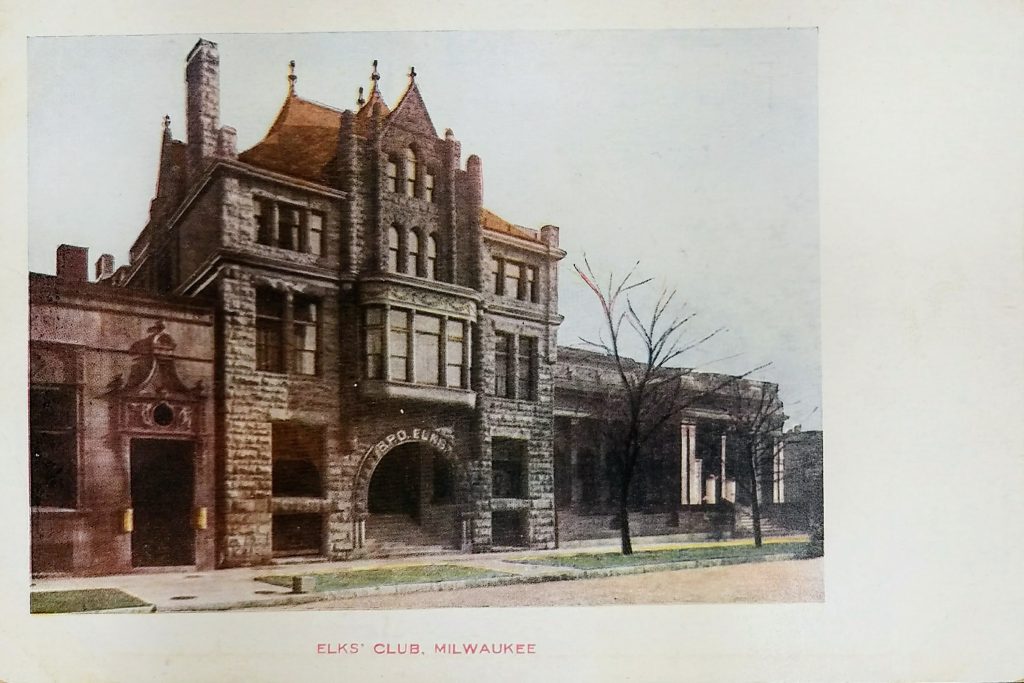 This postcard is not postmarked but predates 1907 (since it has an undivided back). The Elk's Club was located on the east side of Jefferson between Mason and Wells. Today, that spot is occupied by the block-long Office on the Square building.
The building in this postcard was originally the home of the Phoenix Club. The Elks Club, which was established in 1886, bought and occupied it from 1906 until 1925 when they moved to a huge new building on Mason and Prospect. In 1928, this became the Moose Club building. The building suffered a major five-alarm fire in 1955, was remodeled and reopened, but was razed two years later after another three-alarm fire.
The building to the right is the Layton Art Gallery. It was a donation to the city by philanthropist Frederick Layton. It was built in 1888 and demolished in 1957. In 1957, the gallery merged with the Milwaukee Art Institute, forming the Milwaukee Art Center, and moved to the Milwaukee County War Memorial Center.
The building you can barely see to the left became the Milwaukee Art Institute, but when this photo was taken, it was still the Land, Log, and Lumber Company. It was built in 1893 as a one-story office and was bought in 1911 to house the Milwaukee Art Institute. An extra floor was added in 1921. This building, like the others on the block, was demolished in 1957, but pieces of the facade were salvaged and re-used as decorations in the interior of the Office on the Square building.
Sources:
https://0-infoweb-newsbank-com.countycat.mcfls.org/apps/news/openurl?ctx_ver=z39.88-2004&rft_id=info%3Asid/infoweb.newsbank.com&svc_dat=WORLDNEWS&req_dat=0D8DE8DE83992E4A&rft_val_format=info%3Aofi/fmt%3Akev%3Amtx%3Actx&rft_dat=document_id%3Aimage%252Fv2%253A1477BBDEA50EB75C%2540EANX-NB-15A3F2820CF017AD%25402436063-15A2C01031317C05%25400-15A2C01031317C05%2540/hlterms%3A%2522moose%2520Club%2522
Identifiers:
PLUS Code: 23RV+5R Milwaukee, Wisconsin
Approximate Google Street View today: https://goo.gl/maps/fc64ZNBuDS2UT6hr8