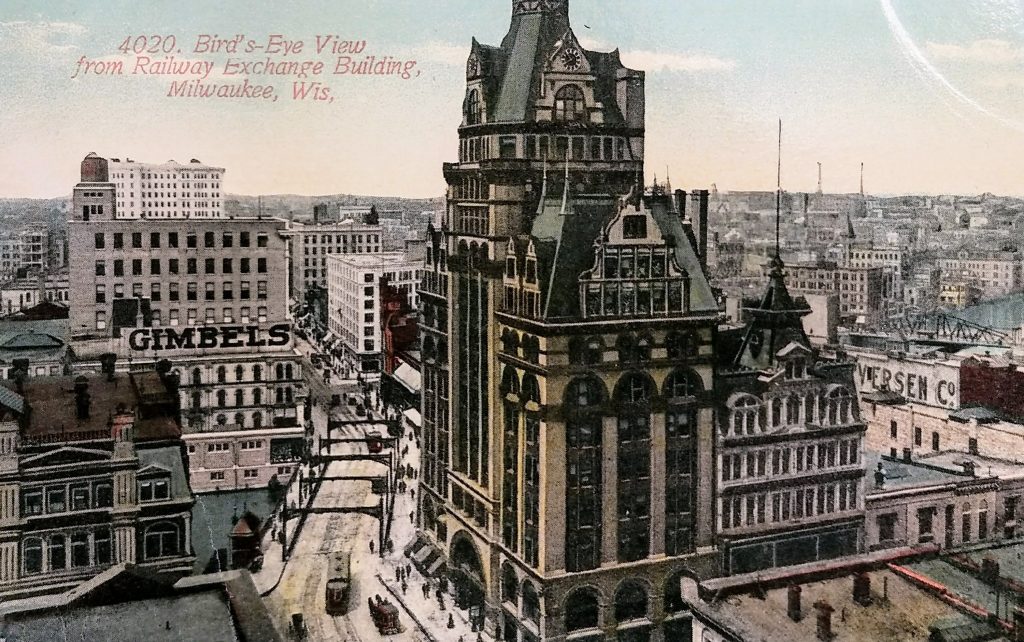 This undated and unpostmarked postcard shows the lovely old Pabst building. The view is facing west from Railway Exchange Building on the corner of Wisconsin and Broadway.
It seems this shot was taken around 1910. Gimbel's original four-story building can be seen across the river, and that was built in 1902 and replaced in 1923. In the distance, the tall white building is the Majestic Building, which wasn't complete until 1908. And the second building north of the Pabst Building, on the other side of the ornate building with the cupola, would be replaced by the distinctive Grecian-Ionic Marshal & Ilsley Bank in 1913.
The Pabst Building sat on the northwest corner of Water and Wisconsin, the site where Milwaukee founder Solomon Juneau's original cabin stood. In 1851, the four-story Ludington Block building was built here. It was replaced by this 14-story building, Milwaukee's first skyscraper, in 1892. And this spectacular building came down in 1981.
About that ornate building to the right of the Pabst–that's the Matthews Bros. furniture store. It sits on what had been Juneau's trading-house or store. The Matthews brothers built one of the most prominent furniture manufacturing businesses in the US in the 19th Century. They worked with Frank Lloyd Wright on at least one of his homes, providing the interior trim, cabinet work, and furniture for the Martin House built between 1903 and 1905 in Buffalo, NY. And most of the interiors and furnishings at the Pabst Mansion were designed by the Matthews Brothers Company. This building, erected in 1878, would later be the home of Waldheim's Furniture before it moved, in 1916, to a ten-story building across the river on what is today called Plankinton Ave.
On the street, you can see a horse-drawn carriage. Horses weren't banned on Milwaukee streets until 1948, but their numbers started to dwindle in the early decades of the 20th Century.
Sources:
https://urbanmilwaukee.com/2016/02/03/yesterdays-milwaukee-ludington-building-1885/
https://onmilwaukee.com/history/articles/waterwisconsin.html
https://books.google.com/books?id=GX6ACQAAQBAJ&lpg=PT10&ots=1_OgfW9vi6&dq=Ludington%20Block%20building%20milwaukee&pg=PT10#v=onepage&q=Ludington%20Block%20building%20milwaukee&f=false
https://books.google.com/books?id=8JgvAQAAMAAJ&lpg=PA1518&ots=hXB87dRRSf&dq=Matthews%20Brothers.%20furniture%20store%20milwaukee%20water%20street&pg=PA1518#v=onepage&q=Matthews%20Brothers.%20furniture%20store%20milwaukee%20water%20street&f=false
https://books.google.com/books?id=7CXCkW3FOAgC&lpg=PA210&ots=n7IWzNZO_i&dq=Matthews%20Brothers.%20furniture%20store%20milwaukee%20water%20street&pg=PA210#v=onepage&q=Matthews%20Brothers.%20furniture%20store%20milwaukee%20water%20street&f=false
http://www.wag-aic.org/1999/WAG_99_kirschner.pdf
https://collections.artsmia.org/art/10028/table-from-a-dining-set-frank-lloyd-wright
https://content.mpl.org/digital/collection/HstoricPho/id/7659
https://www.wisconsinhistory.org/Records/Image/IM49497
Identifiers:
PLUS Code: 23QR+CQ Milwaukee, Wisconsin
Approximate Google Earth View today: https://earth.google.com/web/@43.03876877,-87.90932885,213.41284498a,122.55334129d,35y,-66.68816987h,76.68096155t,0r