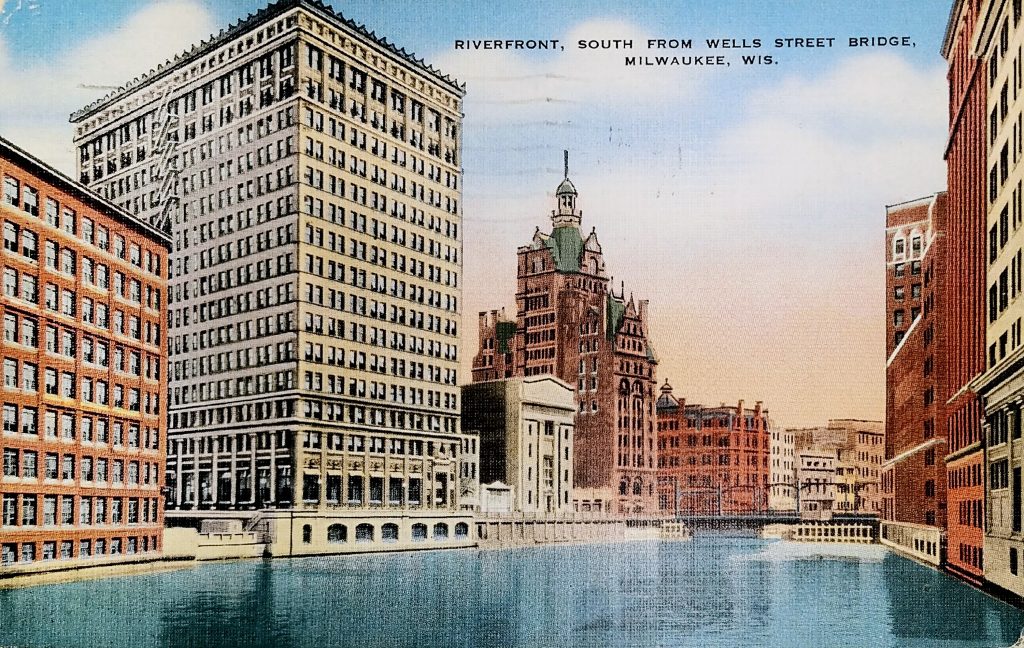 Postmarked 1940, this postcard shows the Milwaukee River looking south from the Wells Street Bridge.
On the far left is the 8-story Manufacturers Home Building, built in 1909. It was converted to apartments in 1997 and is currently known as "City Hall Square." This building was home to the Central Continuation School, which eventually evolved into the Milwaukee Area Technical College. A 1919 publication noted that the school for girls was located here and could accommodate "about 5000 girls." In the 1920s, the school moved to new facilities on 6th and State Streets where MATC is still located today.
Across Mason Street is the 16-story First Wisconsin National Bank, built in 1914. The building was home for the First Wisconsin Bank until the 42-story tower opened on East Wisconsin Ave in 1973.
The four-story neo-classic building nest to that is Marshall & Ilsley Bank, built in 1913. An additional two stories were added in 1930. The building was demolished in 1981 to make room for the 100 East Wisconsin building.
South of that, on Wisconsin Ave, is Milwaukee's first skyscraper, the Pabst Building (1892 to 1981).
Sources:
https://books.google.com/books?id=JsUBAAAAYAAJ&lpg=PA609&ots=oQIQI3oqxj&dq=Central%20Continuation%20School%20manufacturer's%20home%20buildnig&pg=PA609#v=onepage&q=Central%20Continuation%20School%20manufacturer's%20home%20buildnig&f=false
Identifiers:
PLUS Code: 23RQ+47 Milwaukee, Wisconsin
Approximate Google Street View today: https://goo.gl/maps/zCzNooupmvNkZite7