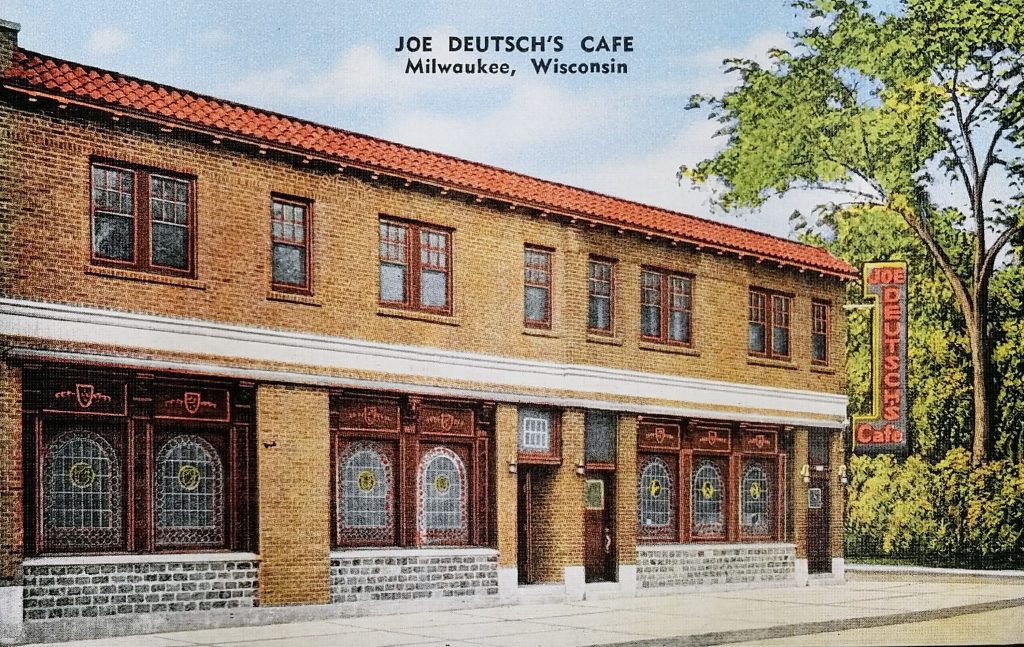 This postcard is not dated or postmarked. This card likely comes from the 1940s or 1950s. It gives the phone number of the restaurant as "Broadway 2-1922," and the 2L-5N (two-letter, five-number) system for phone numbers began in the 1940s and was phased out starting in 1958. (Ever wonder why telephone dials and keypads have letters over each letter? Now you know! It's leftover from this mid-20th-Century system of dialing.)
The address for Joe Deutsch's was 1219 W. Galena St. The place closed in 1954, the building was razed between 1963 and 1971, and this block of Galena Street no longer exists. At one time, Fond Du Lac ran south only to Walnut Street, but in the 1980s, it was extended south into downtown. Today, this spot would be in the middle of the southbound lane of Fond Du Lac as it passes under 12th Street.

Joe Deutsch was a native of Austria, came to Milwaukee in 1912, and began working as a waiter in restaurants. He was employed at the Ogden Cafe and took over the restaurant in 1924 when the owner, Marie Heiser, died. Deutsch sold the Ogden Cafe to John Ernst in 1938. (John Ernst Cafe continued to operate until 2001.) In 1939, Deutsch opened the cafe on Galena and expanded it in 1949, but he closed five years later, in 1954, due to a slump in sales. This place had been popular as a spot for business and labor luncheons and dinners due to its many private dining rooms.
Joe Deutsch didn't give up. In 1957, he opened the Capitol Lounge in the brand new Capitol Court shopping center. It was the first tavern licensed to operate in a Milwaukee shopping center. In 1958, he opened a new place with his chef, Howard H. Graun, called Deutsch & Graun at 340 West Kilbourn, where Major Goolsby's is today. In 1966, Graun passed away, and the restaurant became known as Joe Deutsch's. He leased the space from the Journal Company, and it was known as the city's second Press Club. In 1970, he sold the business to a company headed by Al McGuire, Marquette's basketball coach, which was interested in directing it more toward sports fan appeal.
Deutsch died in 1978 at the age of 81.
Sources:
https://en.wikipedia.org/wiki/Telephone_exchange_names
https://0-infoweb-newsbank-com.countycat.mcfls.org/apps/news/openurl?ctx_ver=z39.88-2004&rft_id=info%3Asid/infoweb.newsbank.com&svc_dat=WORLDNEWS&req_dat=0D8DE8DE83992E4A&rft_val_format=info%3Aofi/fmt%3Akev%3Amtx%3Actx&rft_dat=document_id%3Aimage%252Fv2%253A1477BBDEA50EB75C%2540EANX-NB-15A3A4A4B266A36A%25402435108-15A3A46E4403E886%254016-15A3A46E4403E886%2540/hlterms%3AJoe%2520Deutsch%2527s%2520Cafe
https://0-infoweb-newsbank-com.countycat.mcfls.org/apps/news/openurl?ctx_ver=z39.88-2004&rft_id=info%3Asid/infoweb.newsbank.com&svc_dat=WORLDNEWS&req_dat=0D8DE8DE83992E4A&rft_val_format=info%3Aofi/fmt%3Akev%3Amtx%3Actx&rft_dat=document_id%3Aimage%252Fv2%253A119BAA7547AD9B50%2540EANX-NB-16EFB47D0231E112%25402435535-16EF354E8B7ED78E%25409-16EF354E8B7ED78E%2540/hlterms%3AJoe%2520Deutsch%2527s%2520Cafe
https://0-infoweb-newsbank-com.countycat.mcfls.org/apps/news/openurl?ctx_ver=z39.88-2004&rft_id=info%3Asid/infoweb.newsbank.com&svc_dat=WORLDNEWS&req_dat=0D8DE8DE83992E4A&rft_val_format=info%3Aofi/fmt%3Akev%3Amtx%3Actx&rft_dat=document_id%3Aimage%252Fv2%253A119BAA7547AD9B50%2540EANX-NB-16F9DA29355793AA%25402440863-16F9D763034FD5C0%25404-16F9D763034FD5C0%2540/hlterms%3AJoe%2520Deutsch%2527s%2520Cafe
https://0-infoweb-newsbank-com.countycat.mcfls.org/apps/news/openurl?ctx_ver=z39.88-2004&rft_id=info%3Asid/infoweb.newsbank.com&svc_dat=WORLDNEWS&req_dat=0D8DE8DE83992E4A&rft_val_format=info%3Aofi/fmt%3Akev%3Amtx%3Actx&rft_dat=document_id%3Aimage%252Fv2%253A1477BBDEA50EB75C%2540EANX-NB-1588088674DCEEB7%25402440893-15860A3A7A5D313F%254033-15860A3A7A5D313F%2540/hlterms%3AJoe%2520Deutsch%2527s%2520Cafe
https://0-infoweb-newsbank-com.countycat.mcfls.org/apps/news/openurl?ctx_ver=z39.88-2004&rft_id=info%3Asid/infoweb.newsbank.com&svc_dat=WORLDNEWS&req_dat=0D8DE8DE83992E4A&rft_val_format=info%3Aofi/fmt%3Akev%3Amtx%3Actx&rft_dat=document_id%3Aimage%252Fv2%253A1477BBDEA50EB75C%2540EANX-NB-1570F6901B0F8FF0%25402443574-15704082EDED16AC%254033-15704082EDED16AC%2540/hlterms%3AJoe%2520Deutsch%2527s%2520Cafe
Identifier:
PLUS Code: 332F+F4Milwaukee, WI, USA